Johanna Basford is a Scottish illustrator who uses pens and pencils to create illustrations. Her hand drawn illustrations are predominantly in black and white.
"My creativity is cultivated by a curious imagination and a delight in the fantastic. Much of my work has roots in the flora and fauna that surrounded me growing up on my parent's fish farm in rural Scotland."
graduated in 2005 from Duncan of Jordanstone College of Art and Design in Dundee with a degree in Printed Textiles and a portfolio stuffed with monochrome silk screen prints and drawings. Following that, she set-up a little studio and began on a mission to vanquish the vector and champion the (wobbly) hand drawn line.
Every piece she create starts life as a simple pencil sketch, evolving into a rambling pen and ink drawing usually spanning several sheets of paper.
Since publishing Secret Garden in 2013, she has sold more that 16 million adult colouring books worldwide making her the leader of the adult colouring book boom.
Secret Garden: An Inky Treasure Hunt and Colouring Book (2013) – An inky treasure hunt and colouring book containing creatures and curiosities to be sought. The pages are all in black and white, and as of March 2015, more than 10 million copies of the book have been sold worldwide

 

(three million sold in China alone). The book has been translated into 24 different languages. It is on the New York Times best seller list.
Secret Garden 20 Postcards (2014) – A book containing 20 detachable postcards for Basford's drawings from her book Secret Garden (2013).
Enchanted Forest: An Inky Quest and Colouring Book (2015) – A book by Johanna Basford that takes readers on an inky quest through an enchanted forest to discover what lies in the castle at its heart. As well as drawings to complete, colour, and embellish, there are hidden objects to be found along the way including animals and birds, gems, keys, lanterns, treasure chests, and wild flowers. Beginning at the forest's entrance, the journey progresses through rocky caves, tree-lined mazes, and woodland, over streams and a waterfall, and across the treetops, to finally reach the castle. Also hidden throughout the book are nine symbols. Readers must find all the symbols to unlock the castle door at the end of the quest and discover what lies within. Basford's Enchanted Forest sold out all 226,000 copies, within weeks of its release on 17 February 2015. The publishers then printed another 250,000.

  

It is also on the New York Times best seller list.
Lost Ocean: An Inky Quest and Colouring Book (October 27, 2015) has sold over 1.3 million copies in the US alone. It debuted at Number 1 in the US Non Fiction Bestseller's list in its first week of publication and is on the New York Times best seller list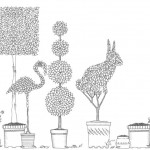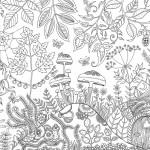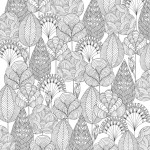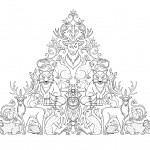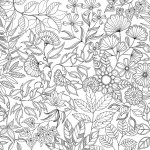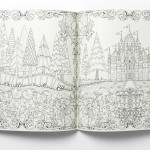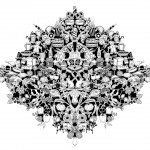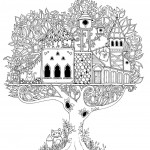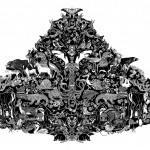 Project Goal:
Create 2 finished black & white coloring book illustrations based on the class theme.
Pages Must:
fill the space

have open spaces to color

use 2 line thicknesses